General Information: Georgia is located east of the Black Sea and south of the Great Caucasus Mountain Range, between 41o-43 o north and 40o-46 o east. This region is currently known as the "South Caucasus" or "Trans-Caucasus" in Western languages. It shares borders with the Russian Federation in the north, Turkey and Armenia in the south and Azerbaijan in the east.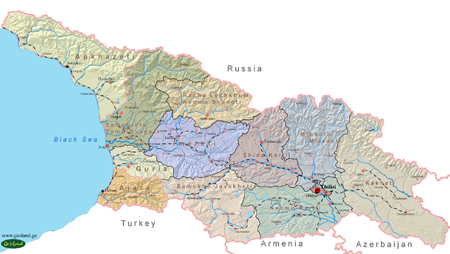 Territory: 69.700 sq. km
Government: Republic
Model of State: Presidential
Language: Official Georgian spoken language has many dialects, usually divided into East Georgian and West Georgian groups. These, together with the related Megrelian, Laz (Chan), and Svan languages, make up the Kartvelian or South Caucasian language family. Georgian is also spoken in parts of Azerbaijan, northeastern Turkey and in many villages in the region of Eṣfahān in Iran.
Population: 5,399,000 (1999), 56% residential, 44% rural
Ethnic Structure: Georgians – 70%, Armenians – 8%, Azeris – 6%, Russians – 5%, Greeks – 2%, other – 9%
Capital: Tbilisi, population – 1,700 000
Principal Cities: Kutaisi – (233,100), Rustavi- (150,000), Batumi- (130,100), Gori – (68,000), Poti – (50,900).
Banking

Time zone: GMT + 3.
Electricity: 220 volts AC, 50 Hz. European-type, two-pin plugs are used.
Telephone: IDD is available.
Country code: 995. Outgoing international codes: 8-07 or 8-10, 8-18.
Mobile telephone: GSM 900 and 1800 networks. Main operators include Geocell Ltd (www.geocell.com.ge) and Magti Com (www.magtigsm.com). Coverage extends nearly all over the country, except a few lowland areas and some high mountain regions.
Airports: International Airport in Tbilisi – 20 km from Tbilisi center; International Airport in Batumi – 12 km from Batumi center.
Religion: Christian majority, mainly Greek Orthodoxy, other confessional groups include Shiite and Sunni Muslims, Armenian Gregorian, Catholics, Baptists, Judaists.
Geography

Climate

Public Holidays
January 1 – New Year's Day;
January 7 – Orthodox Christmas;
January 19 – Epiphany;
March 3 – Mother's Day;
April 9 – Memorial Day;
May 5-6 – Orthodox Easter
May 26 – Independence Day;
August 24 – Constitution Day;
August 28 – Mariamoba (Assumption);
October 14 – Svetitskhovloba;
November 23 – Giorgoba (St. George's Day).